Kyoto to Nagano
Goals
Fuji and Fuji Lakes
Snow Mountains, Snow Field
No Shinkansen. Visit other places along the way.
New Year 2020, my last trip before COVID-19 outbreak.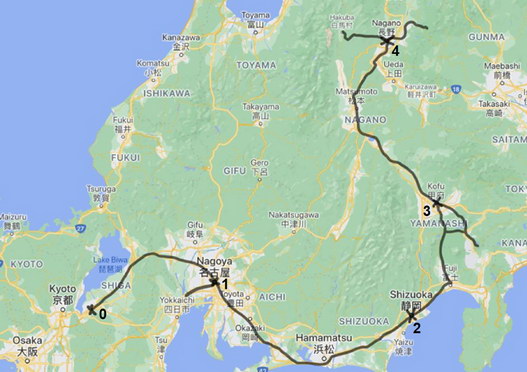 Links
Part1: Aichi, Nagoya, Nagoya Castle, Toyota Museum, Nabana no Sato
Part2: Shizuoka, Miho no Matsubara
Part3: Shizuoka, Kunozan Toshogu
Part4: Shizuoka, Fujinomiya & Shiraito Falls
Part5: Yamanashi, Fuji Lakes, Lake Kawaguchiko & Aokigahara (The Suicide Forest)
Part6: Yamanashi, Fuji Lakes, Lake Kawaguchiko & Aokigahara (The Suicide Forest)
Part7: Yamanashi, Fuji Lakes, Lake Saiko & Mt. Fuji Panoramic Ropeway
Part8: Nagano, A tough route to Togakushi Shrine in winter
Part9: Nagano, Ski Resorts (Hakuba 47 & Goryu, Togakushi Ski Resort)
Part10: Nagano, Jigokudani Monkey Park
Part11: Nagano, Hokusai Museum (Ukiyo-e Artworks)
"The home of Shogun who united Japan, Nice View of Fuji from a Beautiful Peninsula"
บริเวณเขตนี้ถือเป็นบ้านของ Tokugawa Ieyasu ก่อนที่ Ieyasu จะย้ายไปทางตะวันออก
ปัจจุบันเป็นเขตที่ค่อนข้างเงียบสงบ มีชายฝั่งและจุดชมทะเลที่สวยงาม
Shizuoka, a Japanese prefecture on central Honshu's Pacific coast, is home to 3,776m-tall Mt. Fuji, Japan's highest peak. Within this iconic volcano's foothills are the ancient Fujisan Hongu Sengen shrine and the Shiraito and Otodome waterfalls. Fuji itself, crossed with trails, is a major hiking destination. To the south, the Izu Peninsula is known for its beaches, such as Shimoda, and onsen (hot spring) resorts. ― Google
ชื่อแปลได้ว่า "นครแห่งฟูจิ" ในเมืองค่อนข้างเป็นชนบท อาคารต่างๆไม่ใหญ่นัก ดูเป็นสถานที่เงียบสงบ (แต่อาจจะเพราะไปในช่วงวันหยุด)
เมืองนี้มีชื่อเสียงจากน้ำตกด้านขาว (Shiraito Fall) และทะเลสาบทานุกิ (Tanuki Lake)
ในเมืองยังมีศาลเจ้าที่สามารถเดินถึง จากสถานีได้ ชื่อว่า Fujisan Hongu Sengentaisha Shrine
วันที่ไปมีฝนตก และบังเอิญมีงานแข่งวิ่งมาราธอนของนักเรียนหญิงประจำปี ทำให้มีการปิดถนน มีรถน้อยลง การเดินทางไปน้ำตกกับทะเลสาบใช้เวลานาน วันนั้นจึงไปแค่น้ำตก
Fujinomiya is a city located in central Shizuoka Prefecture, Japan. Prize-winning yakisoba, Japan's top Sengen shrine and the new Mt. Fuji World Heritage Center make this an essential stopover.
Shiraito Falls (

白糸の滝, Shiraito no Taki

)

น้ำตกด้ายขาว แห่งชึสึโอกะ
Shiraito Falls is a waterfall in Fujinomiya, Shizuoka Prefecture, near Mount Fuji, Japan. It is part of Fuji-Hakone-Izu National Park and has been protected since 1936 as a Japanese Natural Monument. The falls were regarded as sacred under the Fuji cult. Wikipedia
Just an IT guy who likes travel to get inspiration and get brain refreshed